The Post-covid-19 Condition protocol
The Post-covid-19 Condition protocol
In concert with its network of national and international clinical partners, Movendo Technology has developed a post-COVID-19 protocol, which has been used since December 2020, consisting of an assessment tool and a specific treatment for neuromotor conditions associated with Post-COVID-19 Condition.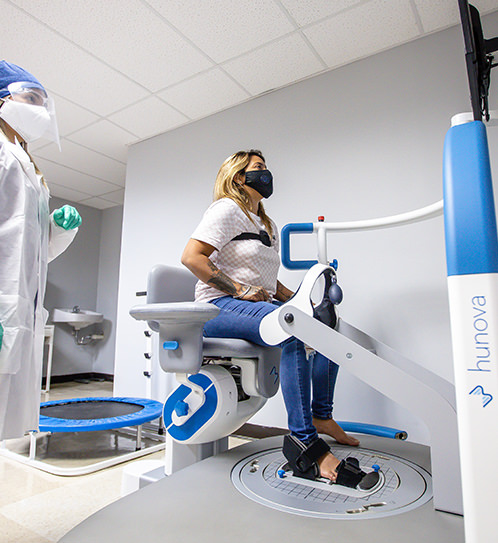 Recorded cases of SARS-CoV-2 infection worldwide as of December 2021.1
of patients with a confirmed diagnosis of COVID-19 report still having at least one symptom two weeks after the acute phase.2
Patients who tested positive for COVID-19 stated that the symptoms of Post-COVID-19 Condition persisted for more than 5 weeks.
Patients who tested positive for COVID-19 stated that the symptoms persisted for more than 12 weeks.3
https://covid19.who.int/
Lopez-Leon S, Wegman-Ostrosky T, Perelman C, et al. More than 50 Long-term effects of COVID-19: a systematic review and meta-analysis. medRxiv [Preprint]. 2021. doi:10.1101/2021.01. 27.21250617
Office for National Statistics. The prevalence of long COVID symptoms and COVID-19 complications. [updated December 16, 2020]. Available from: https://www.ons.gov.uk/. Accessed February 2, 2021
What is the Movendo Post-covid-19 Condition protocol?
The application of the dedicated protocol aims to achieve the following objectives:
Focus on the assessment and evolution of the Post-COVID-19 Condition
Early intervention to reduce the persistence of the condition
Acquisition of objective data on the evolution of patients with Post-COVID-19 Condition and subsequent treatment
Integration and efficiency in a single technological assessment and treatment solution
Clinical and robotic assessments
combined in a single analysis
Clinical and robotic assessment parameters are combined to obtain an accurate description of the patient's condition. The clinical tests available to treating physicians are combined with objective robotic data to form a starting point for the robotic treatment.
The Post-covid-19 Condition treatment protocol
After the assessment, patients receive personalized robotic treatment using hunova, with exercises tailored to suit their neuromotor deficits. A paper was recently published on the Springer journal "Neurological Science" focusing on the application of hunova for the treatment of post-COVID-19 condition symptoms: